Last updated: February 2020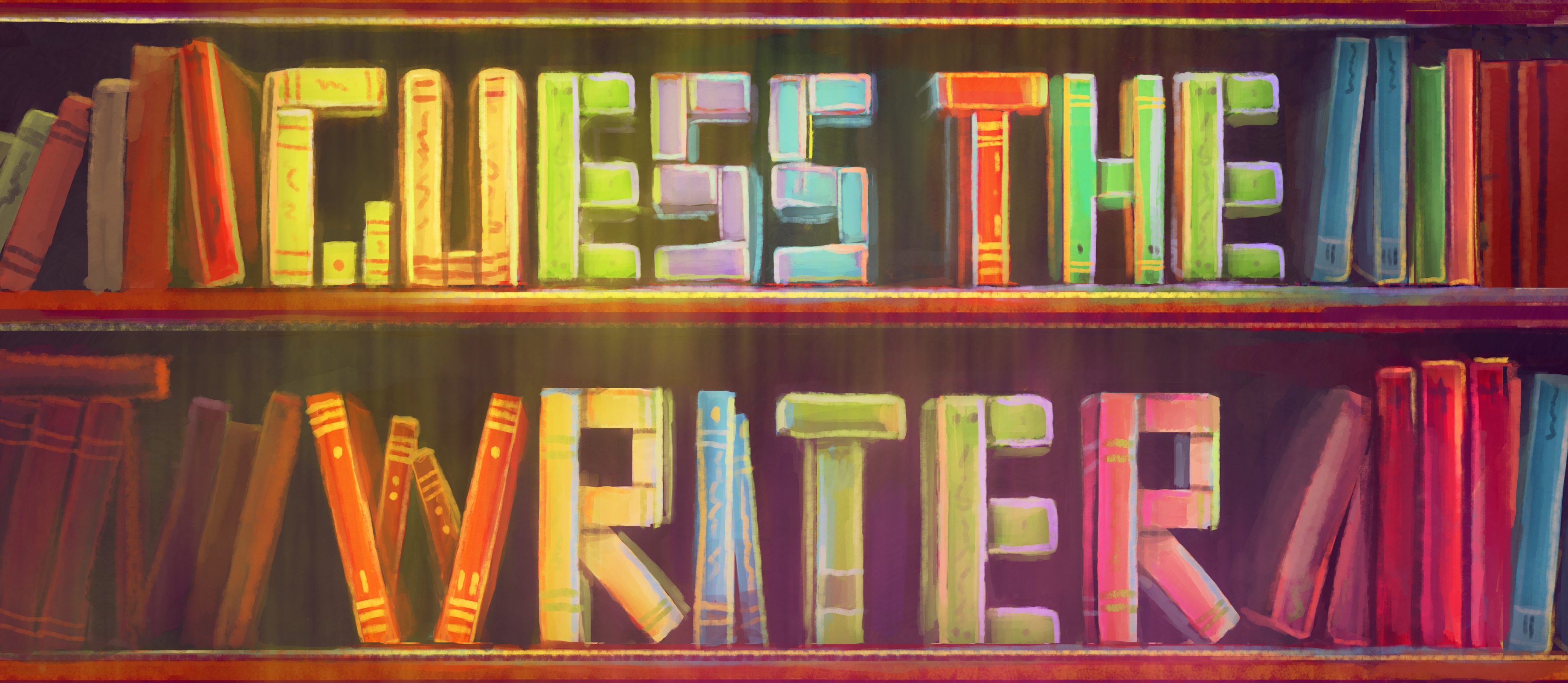 Yeah, I know you are fed up with every writing test in school, but here's another story, I promise.
Folks who read this blog know that Lesley and I love reading and that we read a lot. Moreover, I draw from time to time, and Lesley writes about books and authors. So, we've decided to give a new meaning to writing tests. Why not think of it as of a writing quiz?
The idea has popped up out of a clear blue sky. I finished reading Master and Margarita and started exploring Bulgakov's biography. I wanted to know more about the author and find some kick-ass cool facts about the novel. This is what I found on one of the sites (original illustration by Anton Glotov).
Stylish, isn't it?
Those carefully crafted bits capture the essence and reading atmosphere of the novel. So I sent it to a few friends and asked them to guess which book was behind the image (not all of them were bookworms, I must admit). Some guessed, while some did not. But most of them asked if there were any other similar images they could use as writing tests to guess literary works and authors.
So, I've realized that I would happily challenge myself and guess, and guess, and guess again! Several hours of concentrated googling did not yield any results – I couldn't find anything similar.
"Who else if not me?" I asked myself.

I put together a list of writers who wielded significant influence on me when I read their works, and I tried to visualize some of their most influential writings in this writing test, aka quiz.
Here goes the result: (click to enlarge)

Embed:

Have you got friends who enjoy reading and taking writing tests like this one? Challenge them to see who'll get most correct answers! And please do share similar illustrations of books and authors' biographies. We will gladly guess those too.
Key to this writing test:
The Globe Theater, Hamlet, quote from "As You Like It" – Shakespeare
The Little Prince watching the sunset, "The Little Prince" – Antoine de Saint-Exupery
Collage based on "Twenty Thousand Leagues Under the Sea" and "In Search of the Castaways" + author's portrait (check the wall on the left) – Jules Verne
Collage based on "The Raven," "The Masque of the Red Death," "The Black Cat," "The Pit and the Pendulum" – Edgar Allan Poe
Scene and a quote from "And Then There Were None" – Agatha Christie
Big Brother and the Ministry of Truth, "Nineteen Eighty-Four" – George Orwell
Corvin on his journey to Amber through shadows, "The Chronicles of Amber" – Roger Zelazny
Louis' restaurant scene, "The Godfather" – Mario Puzo
Roland Deschain in front of the Dark Tower, "The Dark Tower Series" – Stephen King
Shrike, Tree of Pain and pilgrims on their way to the Time Tombs, "Hyperion" – Dan Simmons
Collage based on "The Master and Margarita" – Mikhail Bulgakov
John Keats himself, writing "To Autumn."
Scene from "In a Grove" – Ryunosuke Akutagawa
Maya Angelou's writing routine, as described in a 1983 interview with Claudia Tate
Non-existent page from "Codex Seraphinianus" – Luigi Serafini